Silicone Manufacturer in China
Your One-Stop Custom Silicone Product Solution Provider
Bringing over a decade of manufacturing expertise, we operate from a sprawling 3000-square-meter production facility, proudly holding Disney FMAM Factory Certification. Our top-tier team is here to collaborate on crafting and customizing your silicone products to perfection.
Your Top Silicone Products Manufacturer: Crafting Excellence in Custom Solutions
Discover excellence with Dongguan Haotian Silicone Technology Co., Ltd. We're your premier choice for custom silicone products. With over a decade of experience, we specialize in crafting top-quality silicone solutions, including multi-color and complex types.
Our meticulous approach ensures that your unique requirements are met and exceeded at every step. We hold patents for innovative silicone molding processes and boast certifications like ISO9001, IS014001, SEDEX, and BSCI. Our partnerships with renowned brands like Disney, Universal Studios, and more reflect our commitment to quality and reliability.
Custom Silicone Solution for Your Products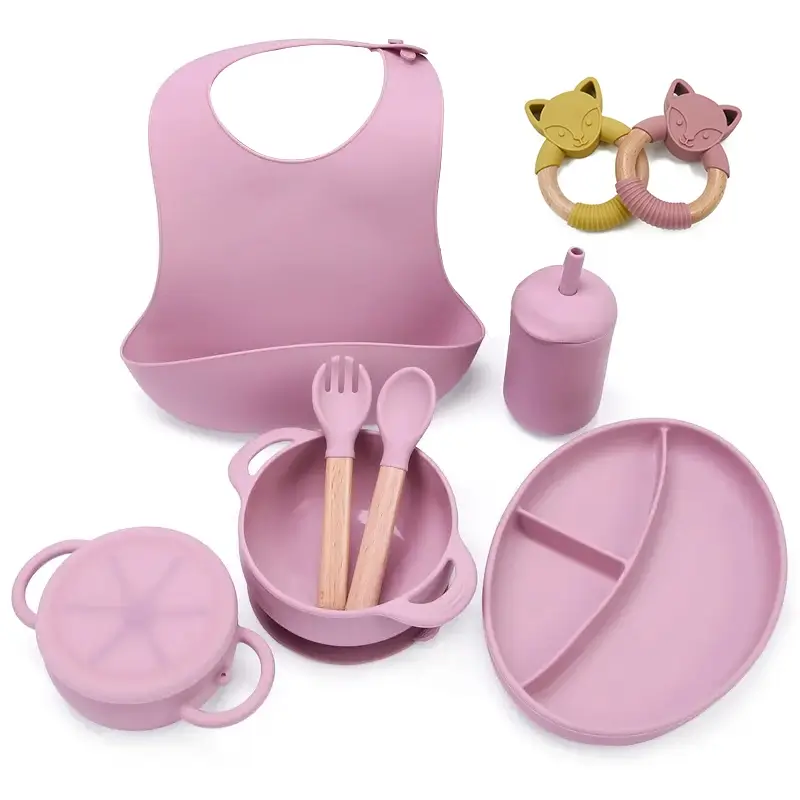 custom wristbands silicone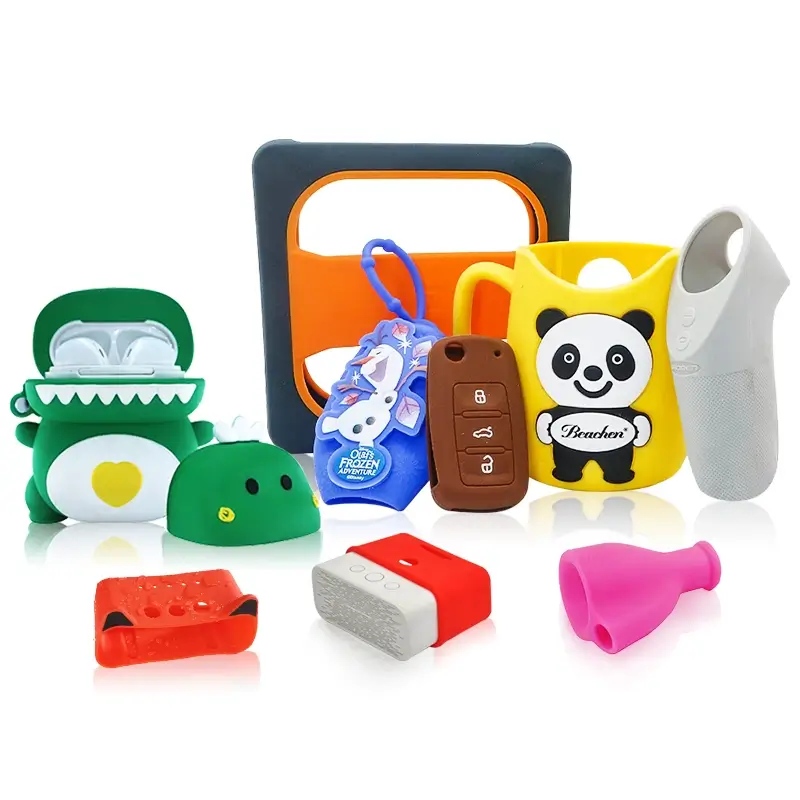 Custom Silicone Kitchen Products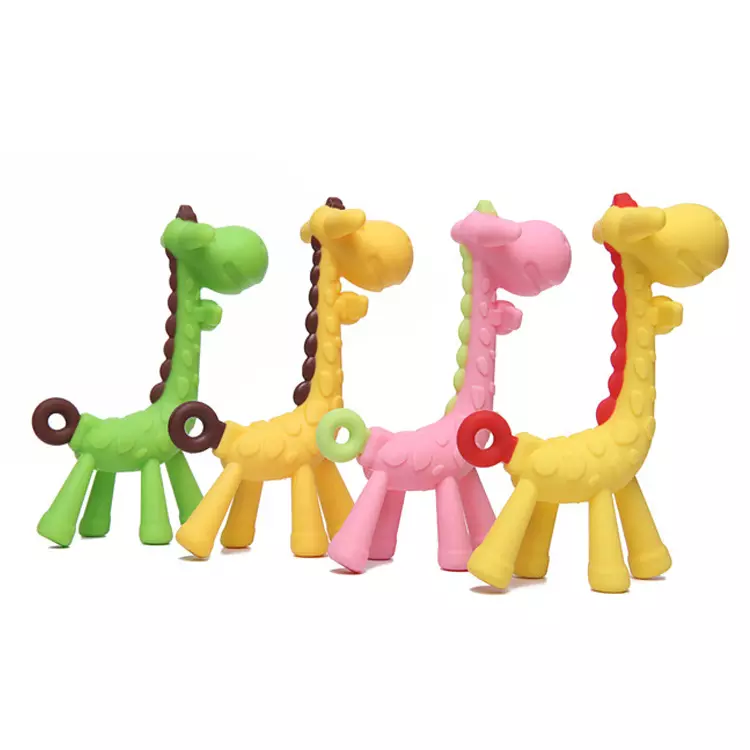 custom Silicone Baby Toy Products
Custom Silicone Pet Products
Custom Silicone Beauty Personal Care
custom silicone bottle >>
custom silicone teether >>
custom silicone o ring >>
custom rubber silicone seals >>
custom Silicone Straw Caps >>
custom silicone stickers >>
custom silicone stopper >>
Our Competitive Edge in Custom Silicone Products
In-House Mold Workshop: Crafting Perfect Samples Swiftly
Our first distinct advantage is our in-house mold workshop, a hub where efficiency and speed combine to produce flawless samples for our clients. This unique capability allows us to promptly transform your ideas into tangible, flawless prototypes, laying the groundwork for exceptional custom silicone solutions.
Additionally, our factory houses an extensive inventory of over 1400 diverse molds, and we offer tailored mold manufacturing services. We engage in collaborative design discussions to conceptualize your vision and then develop precise 3D CAD files to bring it to life. Leveraging cutting-edge CNC and EDM machinery, we have the ability to materialize your designs by creating customized molds, further enhancing our capabilities.
Material Formula Test Lab
Haotian boasts its own material formulation testing laboratory, which is equipped with advanced instruments for measuring and producing accurate DFM+CPK reports. Other tests that can be conducted in the lab are assessments of polymer substances, vinyl and phenyl content, elemental analysis, and tests using a rubber processing analyzer. Consequently, the appropriate proportions of silicone, rubber, and other components can be confirmed for a specific kind of product.
Advanced Production Equipment
An embodiment of our commitment to innovation, our cutting-edge production equipment stands as a testament. These state-of-the-art technologies empower us to manufacture customized silicone solutions with unparalleled precision and efficiency.
With a sharp focus on quality, our advanced equipment elevates the manufacturing process, resulting in products that meet the highest industry standards. From multi-color and complex silicone products to intricate details and designs, our advanced machinery ensures the realization of your vision with the utmost precision. This advantage underscores our dedication to delivering top-tier, tailored silicone solutions to our esteemed clientele.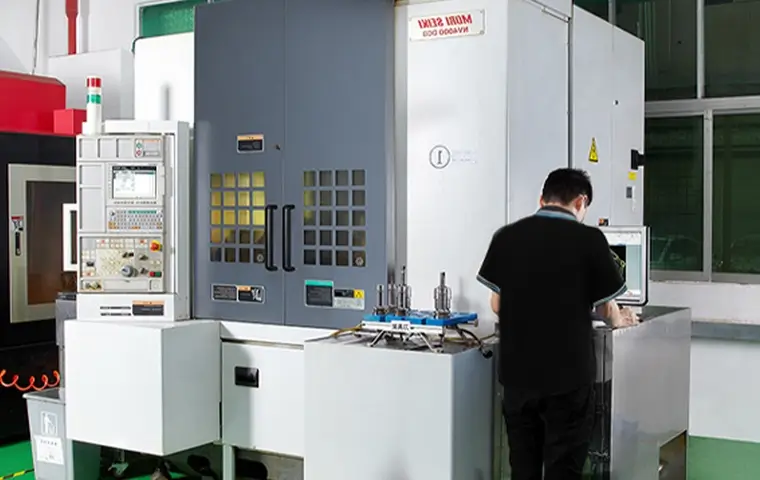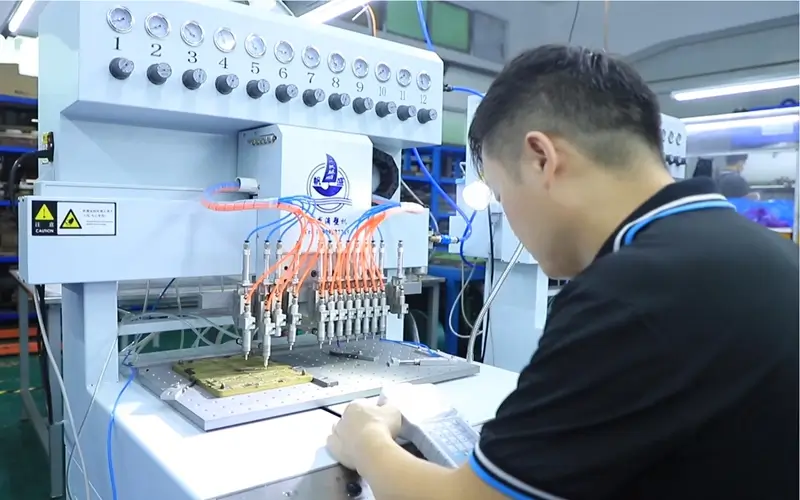 Mastering Important Silicone Production Technologies
Haotian's proficiency in key silicone production technologies including lamination, screen printing, precision adhesive application and multi-color molding.
Our comprehensive understanding of these critical processes allows us to offer a variety of custom silicone solutions. Whether formulating precise mixtures, producing intricate designs via screen printing, precisely applying adhesives, or meticulously executing multi-color moldings, our mastery of these technologies ensures we can meet your unique requirements. This advantage underscores our commitment to providing versatile, tailor-made silicone solutions to our valued customers.
Certified Excellence in Manufacturing
Our steadfast dedication to excellence and quality. Numerous reputable certificates, such as the Disney FMAM Certificate, ISO 9001, UNIVERSAL, SMETA, ISO 14001, and BSCI, are held by our production facilities.
Our dedication to ethical business practices and industry-leading standards is demonstrated by these certifications. They highlight our dedication to creating premium custom silicone solutions that adhere to the strictest global standards. This benefit guarantees our clients' faith in our dependability and caliber, establishing us as a reliable partner for their silicone product requirements.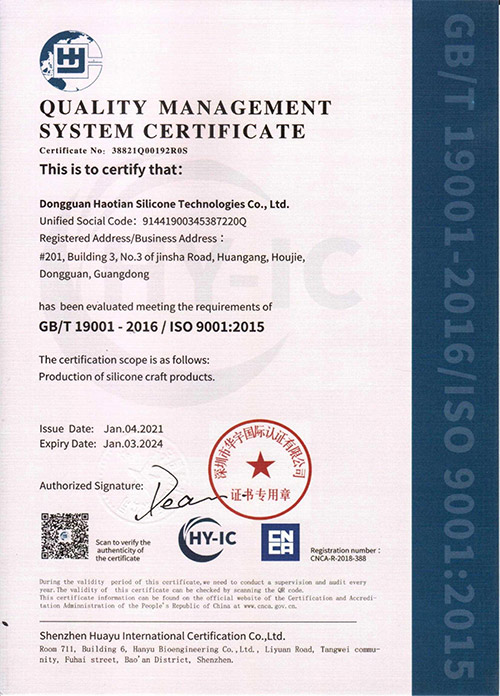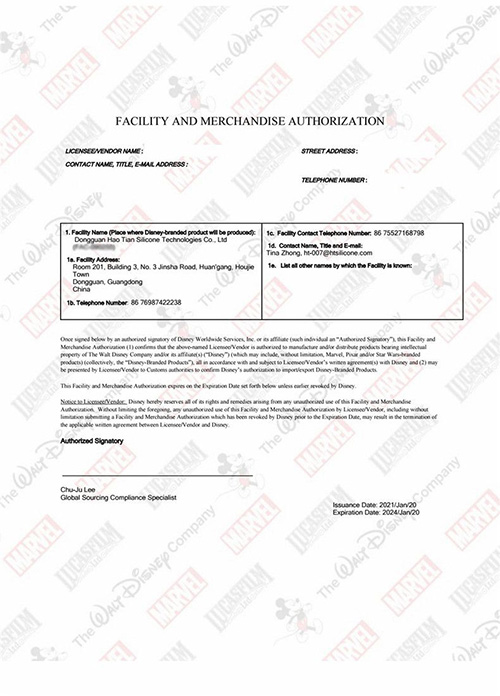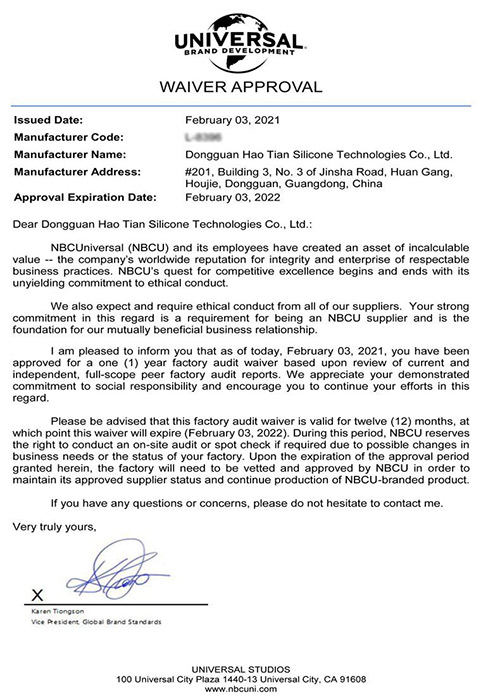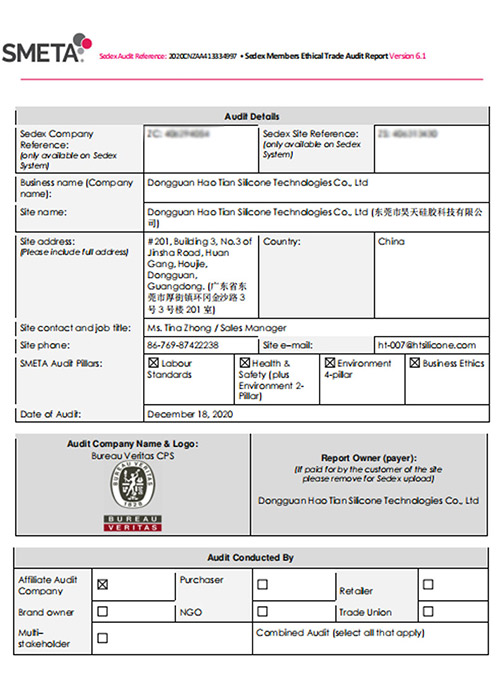 Exemplary Quality Control: Setting Industry Standards
Our dedication to providing outstanding custom silicone solutions is based on strict quality control procedures.
To guarantee that every product satisfies the highest quality requirements, every stage of our production process is closely observed and assessed. Our stringent quality control procedures, which span from material selection to manufacture and final inspection, are intended to guarantee that our clients obtain outstanding, dependable, and expertly constructed silicone solutions. This benefit reaffirms our dedication to providing goods that go above and above, making us the reliable option for all of your silicone requirements.
Whether you have a concept in mind or require assistance refining your vision, our expert design team excels in transforming your ideas into intricate 3D renderings. From intricate details to complex shapes, our team is well-equipped to bring your unique concepts to life .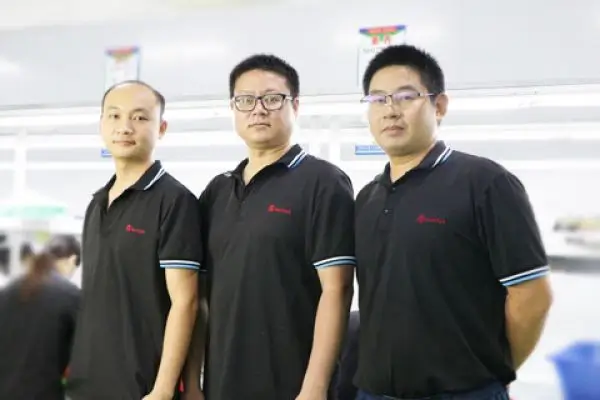 Experienced Production Excellence
Our wealth of manufacturing experience guarantees that the products you receive are flawlessly perfect. We take pride in delivering excellence, ensuring that each item that reaches your hands meets the highest standards of quality and precision.
All-in-One Production Expertise
Haotian offers a comprehensive one-stop solution for advanced production technologies, including silk-screen printing, precision adhesive application, and multi-color molding. Our expertise spans the full spectrum of production processes to ensure we meet all your specific needs seamlessly.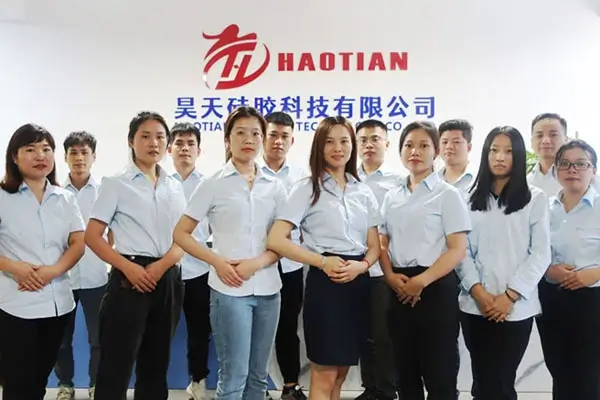 24/7 Dedicated Customer Service
Our service team is committed to providing round-the-clock assistance, ensuring timely resolution of any inquiries or challenges you may encounter during the customization of silicone products. Your satisfaction is our priority, and we're here to support you at all times.
To begin the ordering process, one must first take the necessary steps.
Inquiry Online Directly
Color/ Size/ Qty
Address/ Transport
Quality Certificate
Commercial Invoice
Payment
Feedback from clients concerning Haotian's products and services.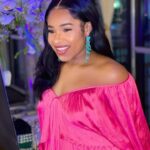 Laura Brian
USA
Haotian made me feel safe throughout the buying process. Their salesman is very professional. I showed my friends their beautiful silicone folding water cups. My friend said that these bowls are made entirely of high quality products. At the same time, I am very satisfied with their service, once I chatted that I like to travel, they actually gave me a cosmetic silicone storage box!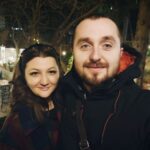 Nk Neal Mill
UK
I have never sourced my silicone products from suppliers other than Haotian because it is the only brand factory I trust in China, and my colleagues personally visited their factory and were impressed with their advanced equipment. Even if each product is a few cents, I am willing to buy from their company, not to mention that in most cases, the quality of Haotian's products is better than other factories. One more thing, my consumers are not resistant to beautiful silicone products, so I had high hopes for the design ability of wholesalers, but Haotian never let me down.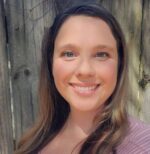 Shannon Geiger
New Zealand
Sourcing silicone products from abroad can be frustrating at times. I previously sourced silicone products from a factory in Indonesia and the price was really low. Even so, their staff's English communication and business skills are not very good, and once the shipment was delayed due to customs clearance issues, I only found out after half a month. Using Haotian is much less hassle. Their salespeople say their eco-friendly products are lab-certified, and they're convinced. Also, they were really professional, all I had to do was sit in the office and wait for the delivery.