Professional Silicone Products Manufacturer
One-stop Customization Service For Any Silicone Products
From Ideas to Reality: The Story of Haotian Silicone Technology Co., Ltd.
At Haotian Silicone Technology Co., Ltd., we don't just manufacture silicone products – we bring your ideas to life. With over 13 years of experience and a 5,000-square-meter workshop, our team of experts is equipped to handle any project you can dream up. From multi-color and complex designs to custom packaging, we work closely with you every step of the way to ensure your vision becomes a reality.
But don't just take our word for it – our certification from Disney and Universal Studios speaks volumes about our commitment to quality and excellence. As trusted partners to these industry giants, we are proud to provide top-notch products and exceptional service to our customers. Crafting Quality Silicone Products with State-of-the-Art Production Processes
Welcome to the world of Haotian, where we use cutting-edge production processes to create a wide range of high-quality silicone products. From multi-color integral molding to surface treatment and printing, our team of experts utilizes the latest technology and techniques to bring your ideas to life. Whether you need customized silicone phone cases, kitchenware, or even pet products, we have the skills and expertise to deliver exactly what you need.
Customizing silicone products is a simple 3-step process Communication of design details and processes:
It is very important to communicate design details and process with customers before starting the silicone manufacturing process. This involves knowing the specific requirements of the desired end product and its manufacture. The customer should provide detailed specifications including size, shape, color and any other necessary features. In addition to design details, manufacturing processes and techniques should also be discussed. This includes considerations such as the type of molding process to be used, temperature and pressure requirements, and any post-processing needs. By communicating these details upfront, it ensures everyone is on the same page and can work together to achieve the desired outcome.
After communicating the design details, the next step is to create molds for the silicone products. This involves creating a negative of the final product that will be used to create the final product through the molding process. Depending on the requirements of the product, molds can be made from various materials such as clay, wood or metal. Molds must be precise and accurate to ensure that the final product is consistent and meets the required specifications. Once the mold is created, the silicone manufacturing process can begin. The raw materials are mixed together according to the desired recipe and poured into molds. The mold is then heated and cured to create the final product. Samples are carefully inspected for any defects or blemishes, and any necessary post-processing steps, such as trimming or polishing, are completed. The final sample is then evaluated to ensure it meets the client's specifications.
Haotian's professional inspection team will check all the details of the sample according to the customer's requirements, and send the inspection report to the customer. Of course, if customers need, we can also send samples to them for testing. In this process, appropriate silicone materials are selected based on the product's usage environment and quality requirements. Different types of silicone materials are chosen for their unique properties such as resistance to wear, oil, acid, alkali, high and low temperatures, and tensile strength.
Once the raw materials are procured, they need to undergo a refining process before they can be used in production. This involves adding curing agents, color pigments, and other additives to achieve the desired product properties. After refinement, the material is obtained in the form of a large sheet or block which is then cut into smaller pieces according to the required shape, size, and weight of the final product.
In this process, the cut pieces are placed into silicone rubber molds and then compressed under heat and pressure to achieve the final shape and size of the product. Alternatively, injection molding can also be used to inject the material into the mold cavity to obtain the desired shape.
Extrusion
Liquid silicone injection
Solid-state compression
Liquid silicone drop
Extrusion
Similar to squeezing toothpaste, the extrusion head is the cross-sectional shape of the product and has a certain length. Under the action of force and temperature, the product is already vulcanized and formed when it comes out of the extrusion head. Products produced through this process are generally long and rectangular, but can have various cross-sectional shapes such as circular silicone tubes.
Liquid silicone injection
Solid-state compression
Liquid silicone drop
Once the molding process is complete, the product needs to be separated from the mold, trimmed to remove any excess material or flashing, and inspected for quality and consistency. Any defects are identified and rectified to ensure that the final product meets the required specifications. One-Stop Services from A-Z
OEM/ODM Factory, one-stop customization service for silicone products
Dedicated engineers provide one-to-one customized solutions
Professional technical R&D team, quick and efficiency reaction
We can provide 2D/3D drawing service if necessary
Own mold workshop, quick mold opening and sampling
Professional technical engineers team, 24 hours online customer service
Professional QC team, 100% quality inspection before shipping
Strict quality management system according to ISO9001
Why Can Haotian Do Better For You?
As a professional manufacturer of silicone products and a supplier of custom solutions for molded silicone products. Haotian Silicone has 12 years of experience in providing custom silicone products and silicone product molding services. We provide customers with complete silicone product customization services from idea to market. Our customers will reduce the risk of working with multiple suppliers, saving time and costs.
How to Proceed in 3 Easy Steps?
Working with one-stop silicone manufacturer can be so easy! Check these three steps before filling in the form.
Our minimun order quantity is 500~1000pcs per design/ color, will double confirm MOQ according to structure, trial order are also welcome.
We will provide quotation according to your design, and offer 3D effect for your approval if necessary
We will proceed samples according to drawing.
After sample approved, we will arrange production base on sample standard.
And we also offer customized packaging and shipping service.
Our Happy Clients From 30+ Countries
Italian Customer
USA Customer
UK Customer
Italian Customer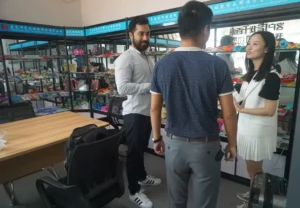 I have never sourced my silicone products from suppliers other than Haotian because it is the only brand factory I trust in China, and my colleagues personally visited their factory and were impressed with their advanced equipment. Even if each product is a few cents, I am willing to buy from their company, not to mention that in most cases, the quality of Haotian's products is better than other factories. One more thing, my consumers are not resistant to beautiful silicone products, so I had high hopes for the design ability of wholesalers, but Haotian never let me down.
USA Customer
UK Customer
Haotian is a professional manufacturer of silicone products in China, Click the button to get quotation and samples.
© 2022 Haotian LLC. All rights reserved.